When it comes to portable generators, Honda is one of the unquestionable leaders on the market. Many times when asking for the recommendations for good portable generators, you will often hear people saying something in the lines of "just get a Honda inverter". It is true that the Honda 2000 watt generator – EU2000i – was the first of its kind to be introduced to the market and instantly won the love of customers around the world. If constantly ranked on the top of the lists of the best portable generators in the market.
However, back in 2018 – nearly 20 years after the EU2000i's release, Honda introduced the new enhanced model – Honda EU2200i. They also stopped the production of its extremely successful predecessor. Was it a good move from Honda? Does Honda EU2200i really perform that much better than its older sibling? We will find out the answers in the following Honda EU2200i review.

One of the best inverter generators
Honda EU2200i is the new improved version of the EU2000i - one of the best and most popular portable generators ever made. It is super quiet, lightweight and extremely reliable. This by far one of the best inverter generators money can buy.
PROS
Reputable Manufacturer
More powerful than the older Honda EU2000i
Very Quiet
Portable and lightweight
Fuel-Efficient
CONS
Lack of electric start
Not cheap
Technical Specs of Honda EU2200i
| | Wattage: 2200 Starting / 1800 Running Watts | | Outlet: 1x 120V 2000W max. (16.7A) 1600W rated (13.3A) |
| --- | --- | --- | --- |
| | Noise Level: 49 dB @ 25% load, 57 dB @ 100% load | | |
| | | | Dimensions: 20.2″ x 11.4″ x 16.7″ |
| | Fuel Tank Capacity: 0.95 gal | | Engine: Honda GXR120 121cc |
| | Run Time: 8h @ 25% load, 3.2h @ 100% load | | Starting Method: Manual Recoil |
Features of Honda EU2200i
Engine
The first instant difference you will notice about Honda EU2200i in comparison to EU2000i is the new engine capable of delivering higher wattage.
The new Honda EU2200i has got a brand new 121cc Honda GXR120 4-stroke engine. This very solid engine is an upgraded version of a super popular Honda GXR100. Those engines are some of the sturdiest you can find and are built to last for years. Many contractors working with Honda generators on an everyday basis reported using them for years without any flaws.
The new engine provides 2200 starting watts & 1800 running watts of power. This is a 200-watt increase in comparison to EU2000i. Needless to say, it is an obviously great thing that Honda EU 2200i gives you slightly more spare wattage. This can be especially crucial if you want to use it to power an RV air conditioner or a refrigerator and something small on top of that. Even though 200 watts might not sound like a massive difference, it can really be a game-changer in some situations and determine whether you can run something or not.
Fuel Efficiency
The engine is equipped with a patented Eco-Throttle mechanism. It allows the generator to automatically calibrate its fuel consumption according to the current demands. (source: Honda)
Any time you plug or unplug an appliance to the generator, Honda EU2200i will instantly adapt to the current workload and optimize its performance to minimize the amount of fuel consumed. This can save you quite a lot of money spent on gas in the longer term.
It also means that you can run the generator for a longer time. At 25% load, you could expect it to run uninterrupted for around 8 hours. Sadly, you can't expect the Honda EU2200i to run for that long if you use it to power something larger such as an AC.
This would require the generator to operate at approx. 75-100% load at which it could run for up to 3-4 hours on one single tank. So you can't really use it to power the RV air-conditioner for the whole night.
On the other hand, you certainly wouldn't expect such a small fuel tank (0.95 gallon) to be able to last for very long. You need slightly larger generators to power bigger appliances for hours.
Control Panel
Honda EU2200i features the exact same manual recoil start method as the older EU2000i. It works absolutely flawlessly and in most cases, it starts with a single pull. On the other hand, we really love the convenience of electric start offered by competitors like WEN 56200i not to mention the remote start feature offered by Champion 75537i. Honestly, that's something we really miss in the Honda EU2200i.
EU2200i features the standard variety of outlets you would expect from a 2000 watt inverter generator designed for a variety of purposes. It comes with 120V / 125V duplex AC outlets suitable for powering most of the electric appliances.
One thing I miss though is the dedicated outlet for RV connection.
There is a Honda EU2200i Companion variation featuring a 30 Amp receptacle for RV.
You would only need to get a cheap adapter (like this one) to make it work with your travel trailer.
Portability
The generator is very lightweight and portable. It really sets the standard for portable inverter generators. Weighing only 49 lbs it is very easy to carry around. The comfortable single molded plastic handle makes it even simpler. Obviously you don't want to walk around with it for miles several times a day. But it's definitely light enough to carry it for short distances without sweating.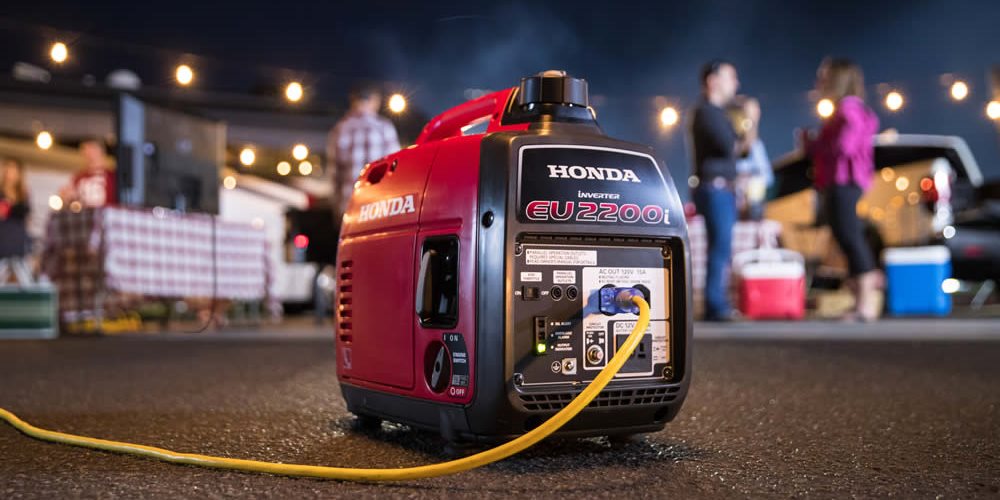 Honda EU2200i Companion vs EU2200i – what's the difference?
The only difference is that the Honda EU2200i Companion comes with a 30 amp outlet instead of a 20 amp DC outlet featured in the ordinary EU2200i. This is especially important for RV users as it basically means you can use the Honda EU2200i companion directly with your travel trailer without having to purchase additional adapters. Besides that EU2200i Companion is not different in any other way than other versions. It offers the exact same amount of power, same low noise level and other features.
Is Honda EU2200i better than EU2000i?
If you want to hear the simple answer then: yes, it really is.
It looks almost identical to the EU2000i preserving all of its best features and performance.
Some of these include the parallel capability, compact size, fuel consumption adjustment mechanism, and finally, the sturdy design capable of withstanding rough working conditions.
It also runs as quietly as the older model. It only produces around 50 dB of sound level at 25% load which easily makes it one of the quietest generators out there (click here to see the other ones).
What makes EU2200i better is what's inside – the engine.
The new Honda GXR120 motor gives 200 more watts of power at your disposal.
As we've mentioned earlier, while this is not a significant change, it is always a great thing to have a bit more spare power just in case.
Despite the higher power, the engine is nearly exactly the same size as the older GXR100 and runs exactly as quietly.
In other words, you basically get the same solid quiet running engine but with a little bit more power for your needs. 
This makes it ideal for lof purposes, including job sites, RV, or campgrounds.
The exact same thing can be said about the Honda EU2200i as a whole. It is basically the better version of EU2000i which preserves the exact same features everyone loved about its older sibling while offering slightly enhanced performance.
What's more, it sells for the same price as the older version.
Slightly better generator for the same price? That's what basically Honda EU2200i is when compared with EU2000i.
Read the Detailed Specs & Customer Reviews
Frequently Asked Questions
For RV – you could use it to run a typical air conditioner or a few smaller appliances (as long as you don't try to run all of these at once).
It's also suitable for a lot of work sites. For example, it can run a heavy-duty circular saw, an air compressor or a rotary hammer.
Honda EU2200i generators are assembled in Japan from where they are shipped to the US.
Just like in case of most of the household goods, tools and electric equipment, Amazon is our preferred vendor. They have the fastest (and often free) delivery, great customer service and very flexible return policy. If for any reason you prefer to buy the generator in a brick-and-mortar store, we suggest visiting your nearest authorized Honda dealer.
This was due to the manufacturing defect resulting in the potentially dangerous fuel leakage. However, at the time of writing (August 2019) the issue has been fully resolved, all faulty generators have been repaired and the new Honda EU2200i generators being on sale now nationwide are reportedly free from any issues.
Conclusion
Honda EU2200i is definitely one of the best portable inverter generators out there. Honda has done a good job improving the product which was already topping the ranking of best peforming portable generators on the market.
On the other hand, while we certainly absolutely welcome the enhanced engine and the resulting boost in performance, we are a bit disappointed that Honda did not add some of the features we also missed in EU2000i. These are the electric start and the dedicated RV outlets.
However, since the price tag hasn't changed, we are still thankful for what we get with this generator and can trully recommend it to anyone who is interested in purchasing a Honda 2000 watt generator.
Even though it does not come cheap, it is the preferred inverter generator for those who need a professional machine from a trusted brand which can potentially serve them for years.
On the contrary, if you need a 2000 watt to run only several times a year (eg. only in summer months or as a backup power during emergencies) – you might want to have a look at cheaper alternatives. WEN56200i or Westinghouse WGen2200 come highly recommended.
| | Wattage: 2000 Starting / 1600 Running Watts |
| --- | --- |
| | Noise Level: 53 dB @ 25% load, 59 dB @ 100% load |
| | |
| | Fuel Tank Capacity: 0.95 gal |
| | Run Time: 8h @ 25% load, 3.4h @ 100% load |
| | Outlet: 1x 120V 2000W max. (16.7A) 1600W rated (13.3A) |
| | |
| | Dimensions: 20.2″ x 11.4″ x 16.7″ |
| | Engine: Honda GX100 98.5 cc |
| | Starting Method: Manual Recoil |