Honda was the first company to bring inverter generators to the market back in 1999. Honda EU2000i soon gained massive popularity and became one of the best selling portable generators ever made. Even though a lot of technological progress has been made in the last two decades, up until recently Honda EU2000i was still ranking on the highest spots on the lists of the best inverter generators.
Honda discontinued the production of EU2000i back in 2018, replacing it with the newer improved version – Honda EU2200i. However, there are still a lot of used EU2000i being sold every day in the US which only proves how popular and good this generator is.
Did Honda make the right move by replacing it with EU2200i? How does the older version compare to its younger sibling? We will try to find out the answers in the following Honda EU2000i review. We will examine the features of EU2000i and see what improvements have been made since it was officially discontinued in favor of the newer model.
Excellent Inverter Generator
Honda EU2000i is one of the best inverter generators ever made. It is a very sturdy inverter suitable for different uses. Its noise level stays below 60 dB even at the 100% load. This makes it one of the quietest generators out there.
PROS
Super quiet
Very reliable
Lightweight
Fuel efficient
Honda EU2000i Specs
| | Wattage: 2000 Starting / 1600 Running Watts | | Outlets: AC - 120V 1600 rated watt max, DC - 12V |
| --- | --- | --- | --- |
| | Noise Level 51 dB @ 25% load | | |
| | | | Dimensions: 20.2″ x 11.4″ x 16.7″ |
| | Fuel Tank Capacity: 0.9 gal | | |
| | | | Starting Method: Manual Recoil |
Features of Honda EU2000i
EU2000i delivers 2000 starting watts and 1600 running watts of power. It features a universally acclaimed Honda GX100 engine. It is well known for its solid construction and the ability to operate for long hours or even days without interruption. The engine is equipped with an air-cooling mechanism which effectively prevents it from overheating.
Weighing only a little bit more than 45 lbs Honda EU2000i is very light and easy to carry.
The Eco-Throttle mechanism makes this generator very fuel-efficient. You can expect to run it continuously for up to 8 hours at 25% load. The generator automatically adjusts its fuel consumption to the current demand.
Even at 100% load, Honda EU2000i can still run for more than 3 hours which is overall quite impressive result.
It has a low oil alert system which prevents the generator from getting damaged in case you forget to replenish the oil. The generator will simply shut down if the oil alert system detects that there is not enough oil for safe operation.
Honda EU2000i features a manual recoil start. While this is already a bit outdated solution, it nonetheless works flawlessly. You can often expect to start the generator even with a single pull.
The generator doesn't offer too much in terms of a variety of outlets available. It basically comes with the standard 120V duplex AC outlets suitable for typical electric appliances or extension cords and that's about it.
Honda EU2000i is both EPA and CARB compliant, making it perfectly legal to use in all US states including California.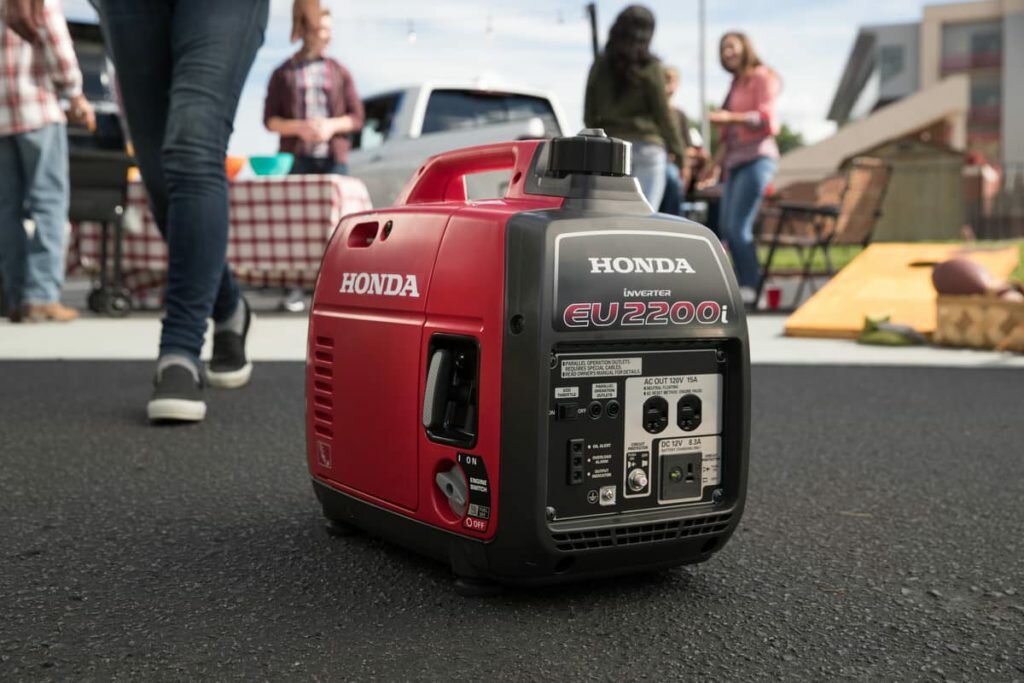 Why was Honda EU2000i replaced by EU2200i?
Even though EU2000i was one of the top-selling generators on the market, it's been already nearly 20 years since its initial release. The time has come for introducing a new product to keep up with the competition. That's how EU2200i was born.
It has got all the same features of Honda EU2000i which helped it won massive popularity. These include the Eco-Throttle fuel efficiency optimization system, quiet operation, parallel capability, small size, and low weight.
What makes EU2200i better is that it offers 200 more watts of power without any increase in size or price. You basically get the same generator but with more power at your hands. What's even better – the additional power boost does not come at an expense of its quiet operation.
Honda EU2200i is exactly as quiet as its predecessor.
It also has the exact run time even despite having a more powerful engine.
Was it a good decision to replace EU2000i with EU2200i? Absolutely yes. Honda did a really great job improving what was already a very solid inverter generator. The fact that the new EU2200i sells for the same price as the older model is a very strong point too.
See the new Honda EU2200i on Amazon
What made it so good in the first place?
This is one of the first questions you can ask yourself.
There are a few reasons why EU2000i became the name almost synonymous with a good quality inverter generator.
First, it was the pioneer on the market and it basically set the standards for the competitors for decades. Despite the numerous efforts, hardly any company could develop an inverter system that would match Honda in terms of its reliability, efficiency and technological advancement.
Second, it is super quiet.
Even now, when compared with other more sophisticated portable inverter generators, Honda EU2000i is still one of the quietest (check out this post to find out more about other quiet generators). At 25% load, it produces only around 50 dB of noise which is as quiet as an inverter generator can get. To this date, no other company has released a gas generator with such a quiet operation.
Another outstanding feature of EU2000i is its fuel efficiency. This is thanks to the Eco-Throttle system patented by Honda. It automatically adjusts fuel consumption according to the current load. In such a way, the engine never burns more fuel than it is needed.
The parallel capability was another groundbreaking feature that received a lot of love from customers worldwide. It allows you to connect two identical EU2000i inverter generators together and get twice as much as running power.
This soon has become an industry standard and now nearly every decent inverter generator on the market comes with such functionality.
Then the weight. Honda EU2000i is way much lighter than conventional generators. It was one of the first generators you could actually carry in your hands. That's why it quickly became the favorite choice for campers and construction workers.
Last but not least, unlike conventional portable generators, inverters are suitable for powering sensitive equipment. That's because they generate less total harmonic distortion (THD) and produce a clean sine wave which results in the steadier and cleaner flow of electricity delivered by the generator. While the THD levels are not so crucial for heavy-duty construction equipment, they certainly matter a lot when dealing with contemporary fragile electronic gadgets such as smartphones or netbooks. Trying to power one of these with a typical old-school portable generator could potentially result in serious damage.
Honda EU2000i and Honda Eu2000i Companion – what's the difference?
You might have come across the slightly different version of EU2000i being on sale – the Honda EU2000i Companion. These two are extremely similar to each other and provide the exact same amount of power. They've got the same engine, produce the same noise levels and share most of the technical specs. The only difference is in one of the outlets. The Honda EU2000i Companion has got a RV-ready 30 amp outlet which is missing in standard EU2200i. This is certainly good news for RV owners as it means you can plug in this generator to the travel trailer without external dog bones.
Besides, there is nothing else about Honda EU2000i Companion which would make it any different.
The same applies to Honda EU2200i Companion and its difference between EU2200i. It's just the presence of a 30 Amp outlet replacing the 120V 20 amp DC output.
Frequently Asked Questions
Some of the large electrical tools and appliances you can run on Honda EU2000i include 11,000 BTU RV air conditioner, refrigerator, an 8" bench grinder, heavy-duty circular saw, a breaker hammer and a 1hp air compressor.
The old Honda EU2000i is no longer on sale. The newer upgraded Honda EU2200i usually sells for around $1000 – $1100 on
sites like Camping World
.
The generator can run for up to 8 hrs on one 0.95 gallon tank of gas.
With its 2000 starting watts and 120 volts, the Honda EU2000i produces 16.667 Amps. The newer 2200 watt model –
EU2200i
delivers 18.333 Amps.
Both Honda EU2000i and its younger sibling Honda EU2200i are made in Japan.
Conclusion
Honda EU2000i is a veteran on the market of inverter generators. This extraordinary portable generator has set the standards for the whole industry and won the well-deserved title of one of the best inverters ever made. It is remarkably sturdy and resistant to damage. Even to this date after nearly two decades since the first EU2000is have been released, a lot of people around the world have been happily using them.
High quality obviously comes with a higher price tag. EU2000i is certainly not cheap but for anyone looking for a generator to last for years, this has been one of the most recommended choices.
However, since Honda replaced EU2000i with an even better EU2200i – this is the one you should consider now. It has all the things we loved about the old EU2000i but offers even more running watts of power while having the same size, noise level and price as its predecessor.
Covered topics: Honda EU2000, Honda EU2200itag1, Honda EU2200itan1, Honda Generator EU2000, Honda EU 2000i
Excellent Inverter Generator
Honda EU2000i is one of the best inverter generators ever made. It is a very sturdy inverter suitable for different uses. Its noise level stays below 60 dB even at the 100% load. This makes it one of the quietest generators out there.
PROS
Super quiet
Very reliable
Lightweight
Fuel efficient
| | Wattage: 2000 Starting / 1600 Running Watts |
| --- | --- |
| | Noise Level: 53 dB @ 25% load, 59 dB @ 100% load |
| | |
| | Fuel Tank Capacity: 0.95 gal |
| | Run Time: 8h @ 25% load, 3.4h @ 100% load |
| | Outlet: 1x 120V 2000W max. (16.7A) 1600W rated (13.3A) |
| | |
| | Dimensions: 20.2″ x 11.4″ x 16.7″ |
| | Engine: Honda GX100 98.5 cc |
| | Starting Method: Manual Recoil |